"Breaking Free is a compelling read of a man who trades his successful business and family life for a backpack and a ticket around the world to change his perspective and his life.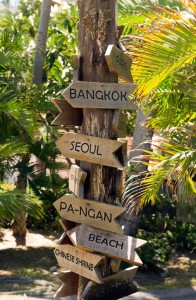 He connects with the "traveler" within each of us that yearns to break free of everyday responsibilities and submit to the adventure of redefining life….one with no self-imposed limits or boundaries. This is a story of courage and love, of happiness and failure, of confusion and clarity, and of regret and completion….this is a story of us! A wonderful life adventure!" (Frank Zolfo, fellow traveler)
When I was very young I had a vision: "A great family and enough money so that no one can pull my strings." At 48 years of age, I accomplished the first two, but I desperately needed no strings…
How would you like to be without responsibility for one year? To be ANYONE and do ANYTHING you want? To be FREE!
When I was 48 I left my business and my hectic life to follow an old dream. It was just me and the rest of the world.
I had a wonderful family, and a business career I could only have dreamt about. I had given myself fully to being a good husband and father. But inside I was torn. Who was I? I had to get "me" back.
I invite you to read about the tale of travel intertwined with the story of my life, internal change and the search of fullfilment. It was the 1990s, before the era of digital distractions – hi-tech, wi-fi, google, or facebook. It was a time of travel innocence in a way.

Why do I think you will like this book series?
it's a story of many of us who want to escape from confined lives and high pressure corporate jobs and dream about taking a break
it's filled with great adventure stories
it's a love story about a woman he loves that he is moving away from and another woman he is moving towards
it gives an insight on the mentality of men and an understanding why he would leave family and business

there are powerful insights on the world and human issues
it is full of extraordinary dialogue with people he meets along his way, vivid scenes and characters are fully rendered and beautifully written
it gives a unique perspective and reflection on his own family, and family in general
it's a story of change through visualization that people can apply to their lives
Breaking Free: Introduction

"My old life ended on the twenty-ninth floor of the Transamerica Pyramid. I was standing with my back to a group of thirty expensively suited men—the managers of a sugar conglomerate headed for bankruptcy, and their high-priced lawyers, bankers, and consultants.
We were "turnaround experts." We saved struggling companies from going under. But as I began to pontificate on how the international operations could rebound from disaster, I was suddenly paralyzed.(…) No words came out of my mouth.

At first, I was puzzled. Puzzlement quickly morphed into panic (…) I desperately searched the graph on screen for anything that might bring me back. But all that came to mind was "I'm fucked!" (…)
Thoughts and images streamed by. Last night with my wife, Kathi, in a Sausalito hotel overlooking the Bay and the city's shimmering skyline. My pride in celebrating our twenty-fifth anniversary. Our toasts to tenacity. But caught in these memories was the queasy uneasiness churning within me lately.

My life was going too fast. (…) No time for family or friends, no time to philosophize, no time even to listen to anyone. My laugh was forced, a business tool really, and anger roiled under the surface. (…) My life was ticking away. (…)
I took a deep breath, (…) and turned to face the room: "I guess that's it!" I said, "Any questions?" (…)
At the elevator, Scott looked at me concerned: "What the fuck was that all about?"
"I don't know. I just lost it."
"What does that mean?"

A tough question! I thought for a moment, and then, fingering my jaw like the perplexed foggy person I was, let loose with the first thing that came to my mind.  "I think it means my life is never going to be the same."